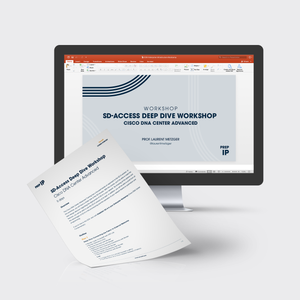 Overview
This Cisco DNA Center Advanced Training has a focused hands-on approach to the SD-A solution. In this workshop, you will have a closer look at the SD-Access. With this course, you'll be able to make the best design decision regarding the deployment of SD-A in your network. By knowing all the options and features, you will be able to use the SD-A solution at its best. In addition, you will be able to profit from all the advantages of SD-A in the provisioning and the operation of your network thanks to automation and programming.
If you're new to the SDA, start with Establish SD-A in your Enterprise Workshop (Cisco DNA Center Fundamentals).
Outline
Day 1
Deep Dive Connecting the Fabric to External Networks
Border Layer 3 Handoff with VRF-Lite
Border Resiliency (HA)
Shared Services with Border
WAN Connectivity with Border
Multiple Fabric Domains Connectivity with Border
Service Chaining with Border
Data Center Connectivity with Border
Internet Connectivity with Border
Lab:
Configuration of a VXLAN handoff to MPLS
Configuration of a transit network between 2 Fabrics
Day 2
Deep Dive Migration and Integrate with Existing Network
SD-Access Migration: Using new Subnets, New Switches
User Onboarding
External Route Exchange
Retain Existing Subnets
Migrating Routed Access
Deep Dive Integrate Wireless in SD-Access
Lab:
Migration from a classical network to an SD-A fabric.
Day 3
Deep Dive Integration with Data Center Architectures
Deep Dive Extending Secure Segmentation and Policy into the IoT Space
SD-Access Integration with DC
ACI Integration
Non-ACI Integration
Cloud Integration
SD-Access use cases for IoT Networks
IoT Deployments across Multiple Sites
SD-Access Extended Node Functionality for IoT
Lab:
Configuration of a interconnect between an ACI Fabric and an SD-A Fabric
Day 4
Deep Dive SD-Access Wireless Integration
Deep Dive Policy-Driven Manageability
Deep Dive Secure Segmentation
Secure Segmentation Case Study
Access Policy: Authentication and Authorization
Access Control Policy
Application Policy
Extending Policy across domains: From Access to Data Center
SD-Access Wireless Guest Design
SD-Access Wireless Over the Top (OTT)
SD-Access Wireless in Distributed Campus
High Availability in SD-Access Wireless
Lab:
Configuration of a seamless interconnects between an ACI tenant and an SD-A VN with end-to-end Security mapping.
Day 5
Deep Dive SD-Access Assurance and Analytics
Deep Dive SD-Access programmability and API advanced
Advanced python
ISE APIs
DNA-Center APIs
Configuration of IOS-XE with NETCONF
Working with a flask for websites
Lab:
Programming the SD-A using the REST APIs
Configuration of a business controller to provision a new service with a simplified GUI
Target Audience