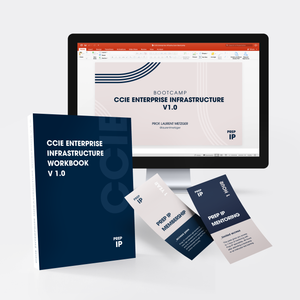 OVERVIEW
The CCIE Enterprise Infrastructure Bootcamp v1.0 prepares you for the CCIE exams and for today's expert-level jobs in enterprise infrastructure technologies. This training now includes automation and programmability to help you scale your IT infrastructure.
This Bootcamp includes:
Study Material (Workbook and Slides)
Prep IP Mentoring with a Cisco Expert, 48h after the training (up to 1h of support)
Prep IP Membership with access to new lab releases every 3 months and to a network of expert-level professionals though the Prep IP community.

 

 
PREREQUISITES
There are no prerequisites for attending CCIE Enterprise Infrastructure Bootcamp, but you should have a thorough understanding of the exam topics before taking the exam.
OUTLINE
1 - Network Infrastructure
1.1 Switched campus

1.1.a Switch administration
1.1.b Layer 2 protocols
1.1.c VLAN technologies
1.1.d EtherChannel
1.1.e Spanning Tree Protocol
1.2 Routing Concepts

1.2.a Administrative distance
1.2.b VRF-lite
1.2.c Static routing
1.2.d Policy Based Routing
1.2.e VRF-aware routing with any routing protocol
1.2.f Route filtering with any routing protocol
1.2.g Manual summarization with any routing protocol
1.2.h Redistribution between any pair of routing protocols
1.2.i Routing protocol authentication
1.2.j Bidirectional Forwarding Detection
1.3 EIGRP

1.3.a Adjacencies
1.3.b Best path selection
1.3.c Operations
1.3.d EIGRP load balancing
1.3.e EIGRP Named Mode
1.3.f Optimization, convergence and scalability
1.4 OSPF (v2 and v3)

1.4.a Adjacencies
1.4.b Network types, area types
1.4.c Path preference
1.4.d Operations
1.4.e Optimization, convergence and scalability
1.5 BGP

1.5.a IBGP and EBGP peer relationships
1.5.b Path selection
1.5.c Routing policies
1.5.d AS path manipulations
1.5.e Convergence and scalability
1.5.f Other BGP features
1.6 Multicast

1.6.a Layer 2 multicast
1.6.b Reverse path forwarding check
1.6.c PIM
2 - Software-Defined Infrastructure
2.1 Cisco SD-Access

2.1.a Design a Cisco SD-Access solution
2.1.b Cisco SD-Access deployment
2.1.c Segmentation
2.1.d Assurance
2.2 Cisco SD-WAN

2.2.a Design a Cisco SD-WAN solution
2.2.b WAN edge deployment
2.2.c Configuration templates
2.2.d Localized policies (only QoS)
2.2.e Centralized policies 
3 - Transport Technologies and Solutions
3.1 MPLS

3.1.a Operations
3.1.b L3VPN
3.2 DMVPN

3.2.a Troubleshoot DMVPN Phase 3 with dual-hub
3.2.b Identify use-cases for FlexVPN
4 - Infrastructure Security and Services
4.1 Device Security on Cisco IOS XE

4.1.a Control plane policing and protection
4.1.b AAA
4.2 Network Security

4.2.a Switch security features
4.2.b Router security features
4.2.c IPv6 infrastructure security features
4.2.d IEEE 802.1X Port-Based Authentication
4.3 System Management

4.3.a Device management
4.3.b SNMP
4.3.c Logging
4.4 Quality of Service

4.4.a End to end L3 QoS using MQC
4.5 Network Services

4.5.a First Hop Redundancy Protocols
4.5.b Network Time Protocol
4.5.c DHCP on Cisco IOS
4.5.d IPv4 Network Address Translation
4.6 Network optimization

4.6.a IP SLA
4.6.b Tracking object
4.6.c Flexible NetFlow
4.7 Network operations

4.7.a Traffic capture
4.7.b Cisco IOS-XE troubleshooting tools
5 - Infrastructure Automation and Programmability
5.1 Data encoding formats
5.2 Automation and scripting

5.2.a EEM applets
5.2.b Guest shell
5.3 Programmability

5.3.a Interaction with vManage API
5.3.b Interaction with Cisco DNA Center API
5.3.c Interaction with Cisco IOS XE API
5.3.d Deploy and verify model-driven telemetry